Don't sign the form Wes!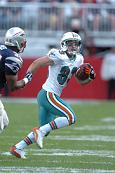 The New England Patriots are set to offer Phin fan's favorite Wes Welker a seven year $38.5 million contract.

Welker was one of the only shining lights in a dark, dark season for the Dolphins. Along with Zach Thomas and Jason Taylor, he makes up the very heart of the team and the fans love him. Please don't sign the form Wes, we need you.

Ok, so that's a little on the corny side but what are you supposed to do when your team is flogging its best players left, right and centre? If Welker becomes a Patriot I will be devastated.

If he decides to sign the offer sheet, Miami will then have seven days to match the offer or they will lose him in return the Pats second round draft pick. A second round draft pick is no compensation for breaking the heart of the team. Match Beat the offer Wayne!
Labels: NFL