Grand National 2007: A Gamblers Guide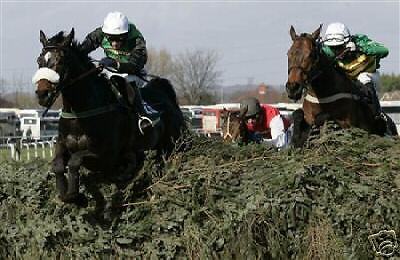 The biggest horse race in the entire world  is run tomorrow, with forty horses jumping over thirty fences on their way around a four mile and four furlong course. It is the most gambled on race in the horse world calender, believe it or not.

They say that picking a winner for this race is a once in a lifetime thing. That must make me one hell of alucky dude, 'cause I had the winner two years back to back in '04,'05 and the horse I had last year came second. So, either I'm extremely lucky, extremely savy or extremely living more then one life at a time. Either way, after two wins back to back followed by a second place, you should listen to what I have to say before putting your hard earned cash down on that three legged donkey...

Vein much?

Kiss my sexy ass, here's the preview:

You don't want to be betting on the nose in the Grand National. There are forty horses out there and approximately twenty of them have a decent sho, so you're far better off going each way. That way you'll win if your horse finnishes in the top four, which, if you pick the right one and he doesn't fall to one of the gruesome fences at Aintree, then you're in with a great shot at the money.

Unfortunately I failed to take my own advice last year and I went for Hedgehunter on the nose. And he finnished second. If I had him each way I would have won a ton of money but instead I was over confident from my back to back wins and I went home with a 'big fat brick'. This year I'm eating humble pie and going each way again, it's the smart thing to do.

So who should you take that gamble with this year? Well, first here are three horses that look good but that you should avoid:

Stay away from the favorite Joes Edge. That's right I said stay way from the favorite. This horse was 50-1 at the beginning of the week and just barely scraped a place in the race itself. He's become the favorite because of rampant speculation over his win in the Scottish National and his trainers ridiculous hype. The punters have flooded the market with money for him but IMO he doesn't have what it takes to get around the course.

Hedgehunter is my favorite horse in the world. He has won me a lot of money over the years including his win in this race back in 2005. There is not a better jumper in the line-up and no other horse can compete with his stamina... BUT, this isn't his year. He is the heaviest Horse in the field and is heavier than the heaviest horse to have won the GN. He's also getting a bit old for all this; a lovely horse, but not a winner this year.

Numbersixvalverde was last years winner and looks in pretty good shape this year. His jockey has swaggered about a lot this week talking about how his horse 'can be the first horse since Red Rum to win back to back' GN's. That's nice rhetoric, but Numbersixvalverde is NOT Red Rum and in fact, isn't even as good as Hedgehunter was in his prime. And Hedgehunter could only manage a 1st-2nd. Despite that, this horse is a good each way bet, but I can't see him winning.

to be cont'd...
Labels: Gambling, Horse Racing, sport, Sports